System MAK «Fare payment»
consist sash modules:
Module «Fare payment»
Fare payment system it is our new development, which is hardware and software system and provides for the establishment in public transport of:
Auto-computer ;
Driver's console;
Power supply unit;
On-board software (software);
Communication channels;
Auto-computer collects validator data and sends them through the GPRS channels to the processing center. The central processing server provides transactions from the automotive computer and points of sale (shops, kiosks, terminals) to automated payment systems with carriers. The process server is a powerful, reliable and efficient tool for organizing payment acceptance for a full range of transportation services.
Tasks that solves the module:
Payment for all types of transport services:
parking - fare;
- parking;
- implementation of payment documents;
- parking;
Ensuring financial transparency of work PT;
Registration of passage of privileged and other categories of passengers;
Passenger traffic monitoring;
Increased income from work PT;
Provides financial calculation between the budgets of cities and regions;
Provides mutual settlements between transport companies.
The fact of payment of travel is confirm:
- on the purchased thermal paper ticket of the passenger:
date;
time;
route;
onboard number TOR;.
- electronic contactless card:
record in the transport validator of a unique card number;
record in the card number of vehicle;
date;
time;
the route;
onboard number tor;
and other.
The fare is paid by tickets and smart cards purchased at places of distribution (shops, kiosks, terminals, GT driver). The passenger inserts a ticket or smart card into the validator, where printed or recorded all the necessary information, confirming the fact of payment. Auto-computer is integrating with GPS monitoring, which will allow counting the number of transporting passengers, both in general and in categories.
Picture №1. Production and sale of cards.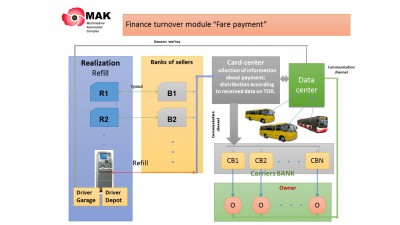 To operate the module, a company is created – the System Operator, which creates a Data Center (Data Center). Together with the Operator, a Map Center is created, which is responsible for:
issue of cards;
sale of cards;
revenue collection;
mutual settlements with carriers.
Public transport is equipped with transport terminals (validators), one on the door, which registers trips on social and transport cards and tickets. In validators mounted compost (dater) paper tickets, for frequent passes of passengers. Tickets display the date, time and board number. Motor transport enterprises, Wi-Fi points are installing with roaming and connecting to a secured database server. Information about payment of travel in the TK in real time with the place (coordinates) of validation is processed by on-board computer and comes on the database server.
To support the "Fare payment» module, the Operator creates a service for the maintenance and support of application and system software, or leases software and hardware.
Picture №2. Turnover of finance module "Fare payment».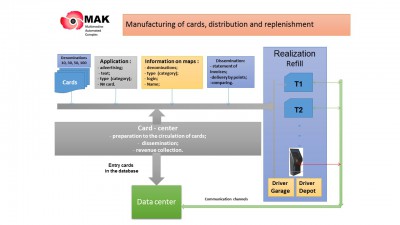 The software of the module «Fare payment» provides for the exchange of data between local database servers for their operational processing of receipt of reporting and analytical forms for the analysis of transport enterprises. The software is implement as separate modules that have access to a shared database.
The «On-board Equipment» module is intend for input, editing and output of equipment installed on vehicles such as validators and on-board computers.
Picture №3. Functional scheme of on-board equipment in public transport with systems:
- fare payment;
- driver's panel;
- GPS monitoring;
- automatic announcement of stops;
- an external information device (EID) for people with disabilities;
- multimedia support.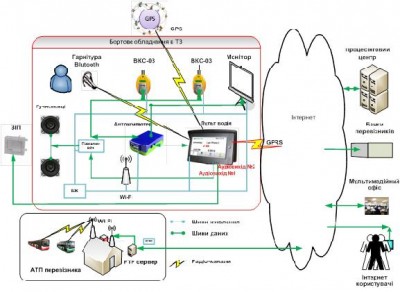 In developing this system of validation of tickets, we firstly realized the task of reliable protection against the use of counterfeit tickets. The problem of counterfeit tickets cares about carriers in all regions of Ukraine. The same is the actual problem and the automatic operational control over the number of passengers carried to eliminate abusive personnel.
The switch to the use of automatic electronic composters and smart card readers (validators), from which information is received promptly, is only possible if the system has a reliable protection against the use of counterfeit tickets. At the same time, the security system should not significantly increase the cost of the ticket itself, and the cost of the validators themselves should not be high enough to ensure the economic feasibility of their use. It is also necessary to ensure the reliability of the work of the validator and minimize the cost of its maintenance.
For realization of all of the above conditions, we have developed the validator of travel tickets VTK -03, which provides:
- reliability;
- a long resource of work;
- minimal maintenance.

Picture №4. Image of validator VTK-03 with RFID – smart card reader MIFARE. MIFARE. Manufacturer: «Visor» company.
In VTK -03 use a thermos printing mechanism and protect ticket, which provides:
- validator, with the help of special electronic sensors, distinguish up to 8 (eight) types of tickets (preferential, social, student and others);
- lack of consumables;
- 8 (eight) types of counterfeit protection with the help of special printing;
- protection against counterfeits by means of a special paint used in the manufacture of banknotes;
- light visual control;
- low price of the cost of making a ticket;
- the impossibility of compiling a fake ticket in the validator;
- the inability to re-use the ticket.

Tickets on thermos paper had be made without difficulty at special enterprises in any quantity.

Ticket Characteristics:
- thermal paper 115 g / sq. M .;
- coloring 1 + 2 (1 special paint);
- numbering on the back (water-based special paint).

Picture №5. The table is intend for input, editing and output of data on equipment installed on vehicles.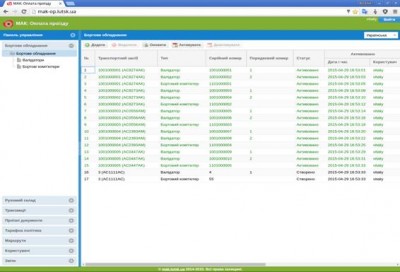 Picture №6. Autocomplete MAK-20.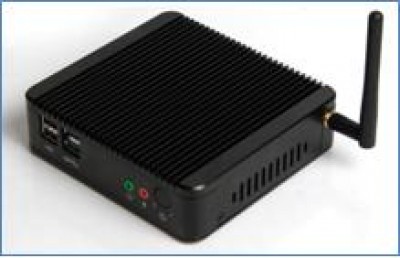 Picture №7. The driver's panel is a 4.3-inch TFT display.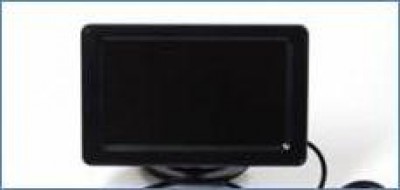 Picture №8. The remote control is a graphic OLED display of 128x64.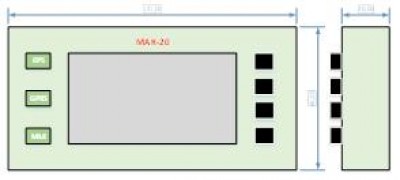 The "Mobile part" module is intend for input, editing and output of:
- vehicles,
- parks,
- carriers,
- owners,
- drivers of vehicles,
as well as their interrelations. In addition, this module allows you to view information on personal accounts of vehicle owners and carriers and to carry out money transfer operations.
Picture №9. A table for entering, editing and outputting data about vehicle.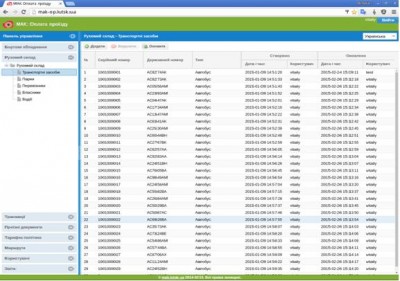 The "Transaction" module is intend for the output in online mode transaction information in tabular and cartographic form. Transactions had be viewed in different sections by:
- types of vehicles,
- routes,
- schedules,
- carriers,
- vehicles.
In addition to the transactions itself, information is displayed on the amount of payments for the selected transaction category in terms of the payment method (tickets, smart cards, mobile payment).
Picture №10. The table is intend for the output in online mode information about transaction of payment.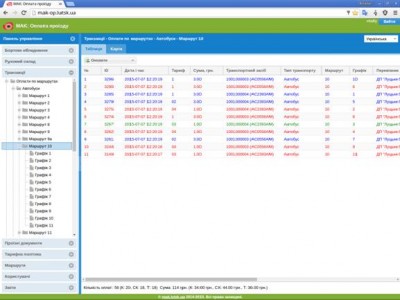 for fare in public transport with security elements.

The «Fare Documents» module is design to work with ticket and smart card information. It allows you to enter, edit and display ticket information. For smart cards, in addition to this, the following operations are available:
- initialization,
- blocking,
- unlocking,
- view available balance,
- history of operations,
- transaction history of smart cards.
Picture №11. Picture of a secure ticket on thermo-paper for Lutsk city.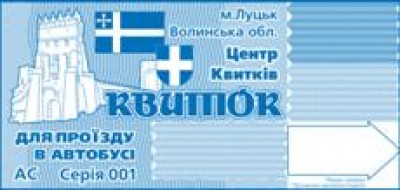 Picture №12. Picture of smart card - MIFARE.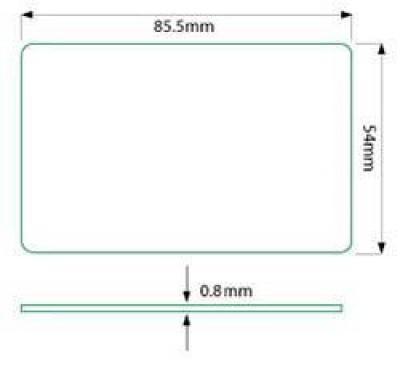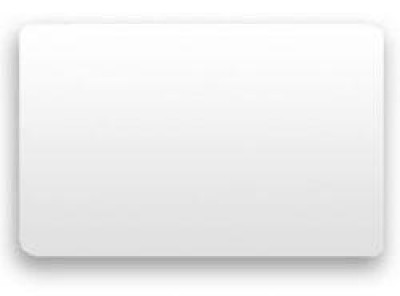 Picture №13. A table for entering, editing and output of travel documents.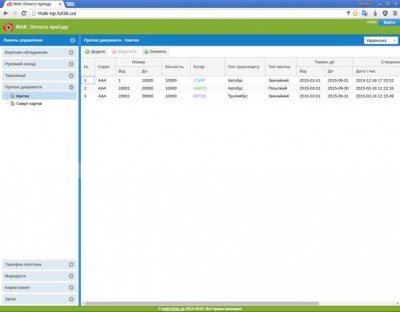 The "Tariff policy» module is intend for input, editing and output of tariff data. It also allows you to activate, deactivate and view the history of tariffs.
Picture №14. Table for entering, editing and outputting tariff data.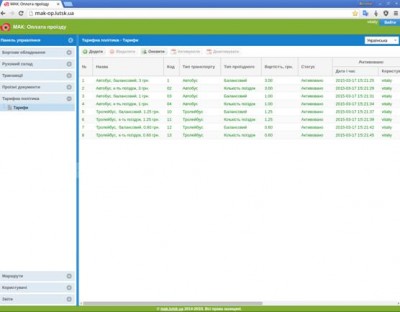 The «Routes» module is intend for entering, editing and displaying information about the routes of vehicles and their owners (carriers). In addition, this module allows you to view info about vehicle stops in tabular and cartographic representation.
Picture№15. Table for input, editing and output of vehicle route data.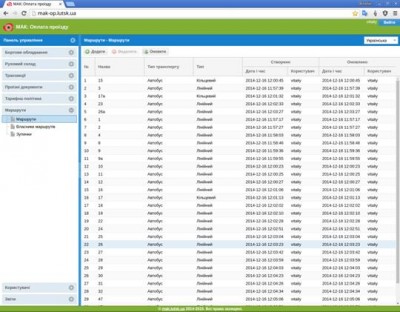 The «Users» module is intend for creation, editing, blocking, unblocking and output of users of the web-application.
Picture №16. Table for input, editing and output of system users.
The Reports module is design to output tabs and graphs of the number and amount of payments reports grouped by tariff and method of payment. Reports had be viewed in different sections by:
- types of vehicles,
- routes,.
- schedules,
- carriers,
- owners,
- vehicles,
- validators.
This module allows you to receive dynamic information about current payments, as well as payment for the last day, week month or selected period. When outputting information in the form of a chart, you can view both the absolute (number, amount) and relative (percent) values.
Picture №17. Table containing payment report.
Module «Constructor of smart cards» – CSC
The module is intend for issue of smart cards and their input, editing and output of balance data.
Types of cards by groups of users:
Transport card;
Student;
School;
Social
Types of cards according to the principle of work:
Mifare (all kinds);
Smart cards UkrCOS3.1;
Mobile phone with NFC interface.
Types of cards by appointment:
electronic social card;
basic recharge card;
for a period of time;
for a fixed number of trips;
one-time.
Distribution and replenishment of cards:
Ticket sales ticket;
Self-service booths;
Any retail outlets;
Internet.

Picture №18. Table for entering, editing and outputting smart card data.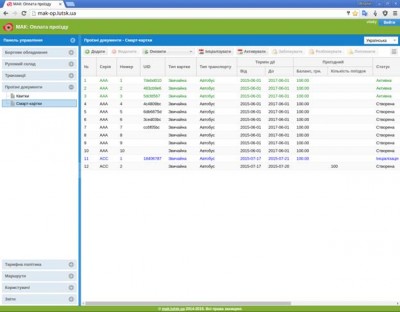 Module «Passenger count»
The system of passenger counting is based on the fare system and takes into account information on:
- place with an anchorage to the stops;
- payment method;
- number of passengers who paid for the time interval;
- total number of passengers.
Picture №19. Picture of bus loading schedule in stop stops.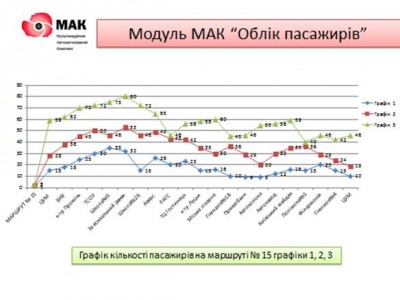 When conducting control on the route by the controller by the technological card (TC) of the controller, the work of all validators is blocked, the passenger present a compiled ticket, mobile payment confirmation device or activated smart card. The controller visually determines the authenticity of the ticket and verifies the printed information, the payment confirmation data on the mobile device, or the electronic controller device (ECD) verifies the presence of activation in the TC of the presented smartcard.

Picture №20. Picture of text on display VTK -03.